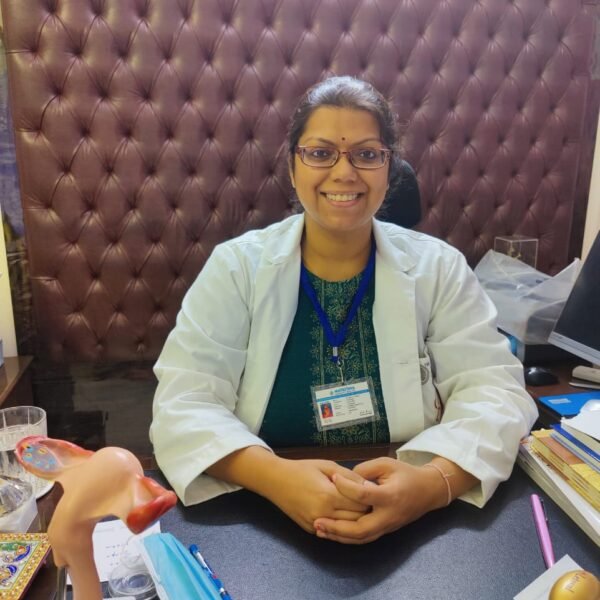 Consultant, Matritava Advanced IVF & training centre, Delhi
Fellowship and Diploma in Minimal Access Surgery from World Laparoscopy
Certified in Operative Hysteroscopy
Certified in Basic Robotic surgery
ICOG (Indian College of Obstetrics and Gynaecology) certification in Reproductive Medicine
Cleared MRCOG part 1
Master of Surgery (M.S.)
Obstetrics & Gynecology – Dept of Obstetrics & Gynecology
VMMC and Safdarjung Hospital,
New Delhi
Bachelor of Medicine and Bachelor of Surgery (M.B.B.S.) – Vardhman Mahavir Medical College and Safdarjung Hospital, New Delhi
Experience
Done emergency duties which included doing independent laparotomy for ectopic tubal pregnancies, independent cesarean sections for previous C. sections, placenta previa, cord prolapsed, twin pregnancies, etc.
Performed more than 1000 cesarean sections independently
Conducted vaginal deliveries for twins, breech, previous c section, etc.
Management of Ob-Gynae patients in high dependent unit like pre-eclampsia, eclampsia, DVT, pulmonary embolism, DIC, ovarian hyperstimulation syndrome, liver disease in pregnancy, etc.
Assisted and done under supervision- abdominal and vaginal hysterectomies, rectocele and cystocele repairs.
Performed salpingectomies, adhesiolysis, ovarian cystectomies, removal of benign ovarian tumors.
Treatment of endometriosis
Medical termination of pregnancy
Inserted more than 200 copper T and done more than 50 ligations
Infertility management, ovulation induction
Done more than 600 independent oocyte pick ups and embryo transfer
More than 1000 intrauterine insemination
Andrology lab experience
Done more than 100 office hysteroscopy
Expert in transvaginal ultrasound for assessing uterine pathology, for follicular monitoring both in 2-D and 3-D USG.
Previous Posts Held
Assistant Professor - Department of Obstetrics and Gynecology Safdarjung Hospital, New Delhi (Nov 2020 - August 2021)
Consultant - Matritava Advanced IVF & training Centre, Vasant Vihar, New Delhi (Jan 2020- September 2020)
Senior Resident - IVF & Reproductive and Biology Centre, Obstetrics & Gynaecology Department, Maulana Azad Medical College, Delhi (December 2016-December 2019)
Senior Resident - Vardhman Mahavir Medical College and Safdarjung Hospital, New Delhi (September 2016- December 2016)
Publications
Prasad S, Marwah S. Journal scan.AOGD bulletin volume 21; issue 1
Prasad S, M Pratima, B Rekha, S Rekha. Correlation of vitamin D and parathyroid hormone with insulin resistance in PCOS women. International Journal of Clinical and Obstetrics and Gynaecology. 2020 4(2), 348-352
Prasad S, Rao SN, Prasad S. Effect of modifiable risk factors on semen parameters. Fertility Science and Research. 2019 Jan 1;6(1):10.
Prasad S, Prasad S. A pilot study on effect of autologous platelet-rich plasma on refractory thin endometrium in frozen embryo transfer cycle. Fertil Sci Res 2020;0:0.
Prasad S, Suri J, Pruthi N, Mittal P. Rare Case of Giant Acrochordon of Vulva. J South Asian Feder Obst Gynae 2018;10(1):72-73
Prasad S, Bassi R, Kumar Y, Kumar A, Prasad S. Treatment options of endometriosis prior to in vitro fertilization/intracytoplasmic sperm injection cycles to improve conception rate. Taiwan J Obstet Gynecol. 2015 Jun 1;54(3):316-8.
Controversies in Adoloscent PCOS in AOGD Bulletin issue 1 volume 15
Challenges faced in IVF in low resource set up in AOGD Bulletin Issue 2 volume 15 2018
Case report on "Abdomino-pelvc mass in postmenopausal female: A diagnostic dilemma" in International Journal of Reproduction, Contraception, Obstetrics and Gynaecology Volume 5, Issue 8, 2016
Prasad S, Kumar Y, Nayar P, Prasad S, Sharma G. A prospective study to assess the mental health and quality of life in women undergoing assisted reproduction. Fertility Science and Research. 2017 Jul 1;4(2):117.
Kumar Y, Prasad S, Khan MA, Husain SA, Prasad S, Sharma S. Ovarian interleukin profile and pregnancy outcome in women undergoing assisted reproduction: A prospective study. Fertility Science and Research. 2017 Jul 1;4(2):93.
Presentations
Oral presentation on "Study the association of progesterone level with pregnancy outcome in IVF/ET cycle" in 57TH AICOG 2014, Patna.
Oral presentation on" Prevalence and determinants of depression in PCOS" in 4TH National conference in Gynae Endocrinology; GESICON 2014.
Oral presentation in Annual Conference of Indian Association of Gynaecological Endoscopy; IAGE MISCON 2014 on "An interesting case on labial varicosity in Pregnancy.
Oral presentation at 10th Annual National conference of Indian Fertility society
Oral Presentation on "Knowledge, attitude and practice in breast feeding in ANC patients in tertiary care Centre" in NARCHI 2014
Poster presentation on "Can insulin resistance be predicted by vitamin D deficiency in PCOS" in FERTIVISION 2015, Pune; won 2nd prize.
Poster presentation on "PCOS- clinical and biochemical correlation with vitamin D in PCOS" in FIGO 2015, Vancouver, Canada
Oral paper selected for IFFS World Congress 2016 on "Epidemiological trend in infertility in tertiary care centre".
Poster presentation- won 3rd prize in ART update, Kasauli 2017
Oral paper presentation on "Rare case of successful pregnancy in pure XY gonadal dysgenesis. In FOGSI FIGO 2017